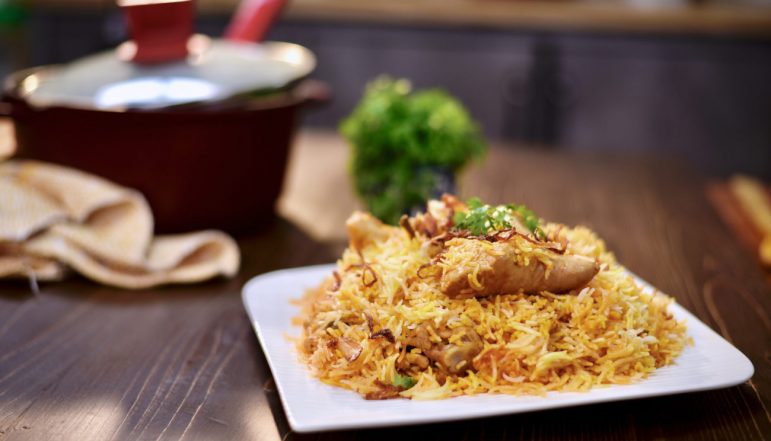 Lucknowi Chicken Biriyani
Lucknowi Chicken Biriyani is made with long basmati rice, meat and mild spices. This biriyani has a delicate flavour and a sweet aroma. This cuisine is unique to the state of Uttar Pradesh in India and the capital city of the Nawabs, Lucknow.
Why Organic?
We're making room for self care today with plan.
Speciality Produce
New range coming in on a weekly basis veg section.
Ingredients for the recipe
For Marination
500 gms Chicken

1 tbsp Unifolks Red Chilli Powder

1/2 tbsp Unifolks Turmeric Powder

1 tbsp Unifolks Coriander Powder

1 tbsp Unifolks Chicken Biryani Masala

1 tbsp Cumin Powder

2 chopped Green Chilies

4 tbsp fried brown Onions

2 tsp Garlic paste

2 Tsp Ginger paste

2 cups of Curd

2/3 crushed Mace

Salt

 
For Rice
1kg Biryani Rice

6 tbsp of Salt

2 tsp Shahi Jeera

2 Star Anis
For Chicken
2 Bay Leaves

7 tbsp of Oil/Ghee

1 Cinnamon Stick

2 Cardamoms

4 Cloves

2-3 Black Cardamoms

1 tbsp Coriander leaves

1 tbsp Mint Leaves

 
For Garnishing
3 tbsp Milk mixed with saffron

2 tbsp coriander leaves

2 tbsp mint leaves

5 tbsp of fried onion

 
For Marination
Step 1
In a bowl, mix the marination ingredients with the chicken.
Step 2
Marinate the chicken for minimum 2 hours
For Rice
Step 1
Soak Basmati rice in water for at least one hour.
Step 2
Add shahi jeera, salt and star anis to the water followed by the rice.
Step 3
Cook it only till its 50% done. Once half-done strain and set aside uncovered for the heat to escape.
For Chicken
Step 1
In a kadai, heat the oil or ghee.
Step 2
Add all of the previously mentioned whole garam masalas.
Step 3
Add the chicken that has been marinated  and mix well.
Step 4
On medium heat, cook it for 15 to 20 minutes in a partially covered pan.
Step 5
When the oil starts to separate, turn off the heat.
Step 6
Add the mint and coriander, then cover the mixture and let it sit for 10 minutes.
For Chicken Biriyani
Step 1
Take a deep vessel, in which you can dum (slow steam heat) the Biryani.
Step 2
Apply some ghee to the vessel's bottom.
Step 3
Add in the chicken first, spread evenly.
Step 4
Now add the half cooked rice and spread evenly.
Step 5
Add saffron milk, coriander, mint, and fried onion to the layered biryani as garnish.
Step 6
Cover with a clean towel and place a heavy lid on top.
Step 7
Allow the biryani to simmer in its own steam for about 20 minutes on very low heat.
Step 8
Serve hot Lucknowi Chicken Biryani and enjoy.