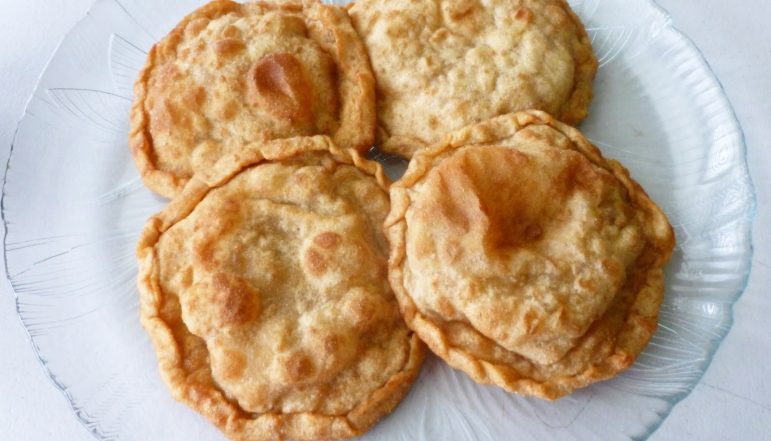 Irachi Pathiri is one among the best gifts Malabar kitchens have even given to Kerala cuisine. Crisp and flaky, this minced meat pathiri is a filling meal for everyone.
Why Organic?
We're making room for self care today with plan.
Speciality Produce
New range coming in on a weekly basis veg section.
Ingredients for the recipe
1) For Pathiri
2 cups-Maida

Salt

Water

1 tbsp-Oil

 
3)For Assembling
1-Egg

1tbsp-Milk

2 tbsp-Sugar

1/2 tsp-Cardamom powder

1 tbsp-Ghee

 
2)For Filling 
1-Chicken breast

1/4 tsp-Unifolks Turmeric powder

1/2 tsp-Unifolks Pepper powder

Salt

Water

2-Onion (chopped)

3- 4-Green chilly (chopped)

1 tsp-Ginger (chopped)

1 tsp-Garlic (chopped)

1 tsp-Unifolks Coriander powder

Coriander leaves (chopped)-a handful

1 tbsp-Oil

 
For Pathiri
Step 1
Mix all of the ingredients for pathiri and make it to a soft dough. Cover with a plastic wrap and keep aside for 30 minutes.
For Filling
Step 1
Cook chicken with 1/2 cup water, turmeric powder, pepper powder and salt. Shred or chop the chicken.
Step 2
Fry raisins and cashew nuts in 1 tablespoon heated oil.
Step 3
Until translucent, sauté onions, ginger, garlic, and green chilli in the same oil.
Step 4
Add the garam masala, turmeric, and coriander powders. Fry for one minute.
Step 5
Add shredded chicken along with the water in which it was cooked. Cook until dry, adding salt as necessary. Add cashews, raisins, and coriander leaves.
Step 6
Keep aside to cool.
For Assembling
Step 1
Make balls of dough about the size of lemons.
Step 2
Using a rolling pin, flatten each ball into a pathiri.
Step 3
Onto one of the rolled discs, spread the stuffing. Put the other rolled pathiri on top of the stuffing and use your fingers to press and seal the edges.
Step 4
Heat oil in a shallow frying pan, fry the pathiri till golden brown on both sides.
Step 5
Beat one egg with two tablespoons of sugar, one tablespoon of milk, and cardamom powder in a bowl. In a pan, heat 1 tablespoon ghee. When the egg is cooked on both sides, dip the fried pathiri in the egg batter and lightly fry.